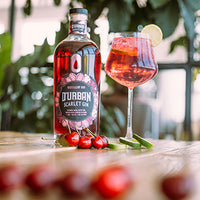 World's First Cascara Gin
D'Urban Scarlet Gin, made by Distillery 031, is the world's first gin made with cascara (coffee cherries). Cascara is the red, fleshy covering around the coffee bean. Normally coffee cherries are considered a by-product of the coffee-making process and are discarded as waste. But we have found an eco-friendly way to add a unique flavour to our gin. The cascara adds subtle berry notes without becoming overpowering. This exciting gin is hand crafted in small batches using locally-sourced cascara from Beaver Creek Coffee Estate on the KwaZulu-Natal coast of South Africa.
Buy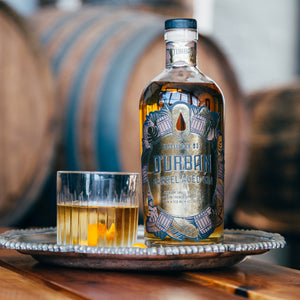 Bridging the Gap Between Gin and Whisky
A first for South Africa, D'Urban Barrel Aged Gin (by Distillery 031) is a London Dry style gin hand crafted with a blend of botanicals, including African rosehip, and then aged using the solera method in French oak barrels. The barrel aging mellows and softens the spirit and imparts subtle spice and toasted almond flavours to the gin. D'Urban Barrel Aged Gin is aged for a limited time to retain the freshness that characterises a good gin.
BUY
Celebrating #D'Urbanism
D'Urban Dry Gin is a classic London Dry style gin with a twist. Our gin is hand crafted with a blend of 10 botanicals, including African Rosehip. It is carefully distilled, drop by drop, in the lush, tropical city of Durban, South Africa. In this laid-back city of year-round summers, we believe that simplicity is the secret to a more abundant life. It's what we call #durbanism. Combine this award-winning gin with a few simple, natural ingredients and create a truly spectacular drinking experience.
BUY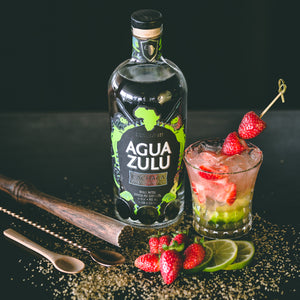 A Symbol of Freedom
Cachaça is a distilled spirit made from sugar cane, first invented by Portuguese settlers in Brazil. Today it's the most popular distilled alcohol in Brazil, and has become a symbol of freedom and Brazilian identity, produced and consumed throughout the nation. Agua Zulu Cachaça is made in the Brazilian style using the best KZN sugar cane. It is delicious sipped neat and works beautifully in a traditional Brazilian Caipirinha and other cocktails.
BUY